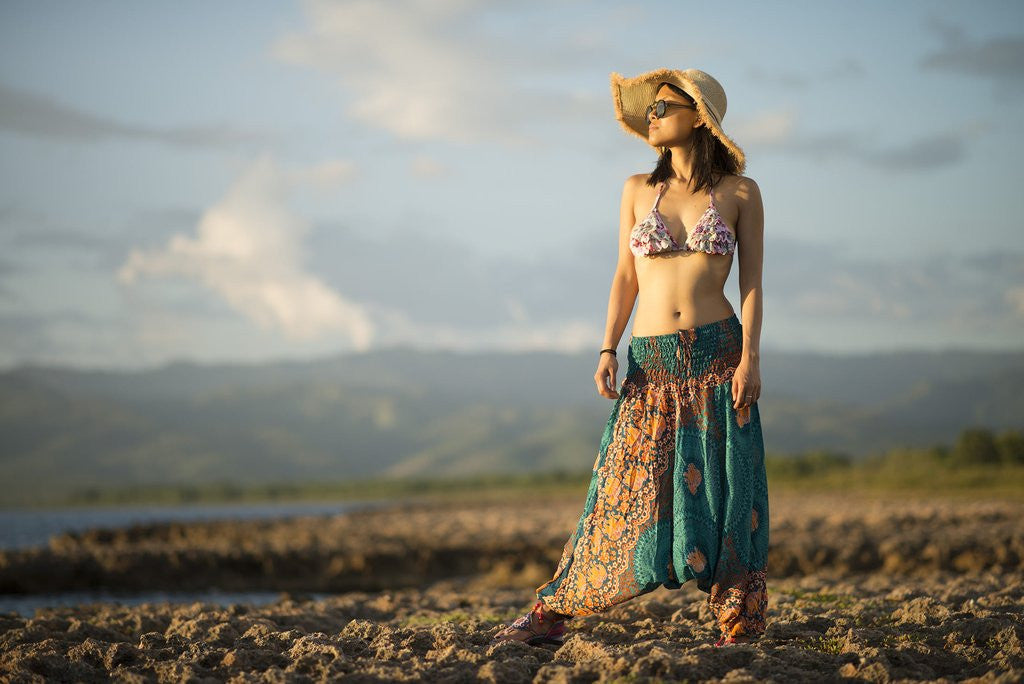 The history of the harem pants in brief, by Forgotten Tribes
How well do you know the history of Sarouel?
The modern harem pants, called "harem trouser" in Anglo-Saxon countries, are associated with a relaxed and relaxed lifestyle. It offers comfort, a sense of freedom of movement, and unhindered style.
It's so ingrained in Western culture that it's easy to forget that harem pants have been around for hundreds of years, and can be found in different countries around the world. The name itself gives clues as to its origins. But have you ever wondered where its evocative name got its source?
Here are some historical elements that will enlighten you on these iconic pants, and their fascinating journey from the deserts of Africa to the avant-garde fashion of the 21st century.
Real Persian pants?
The exact origins of the baggy sarouel that we cherish so much are still unknown. Many historians believe that the harem pants were created by the Persians over 2000 years ago. However, they do not all agree on this subject, and some point to a more recent creation, in the Middle East, North Africa, or Turkey.
It might somehow explain his name. The term "harem" is defined as "sacred place for female family members" in Arab culture. Harems were generally made up of women and concubines, and men were strictly prohibited from setting foot in them. 19th century illustrations show North African women from harems wearing wide tulip-shaped pants to preserve modesty, and it is generally this origin that is consensus.
The history of the Asian harem pants
The harem pants weren't just worn by Africans, Turks, or Middle Easterners. There is plenty of evidence to support the fact that similar types of pants were also worn in Southeast Asia, and more specifically among the Hmong people of China, Vietnam, Laos, and Thailand.
One can nevertheless note marked differences in style. While Arab harem pants have a very distinctive tulip shape on each leg, Hmong harem pants were often wider and lower in the crotch.
Harem pants in French military style
In the 19th century, French military recruits serving in North Africa noticed that locals wore these airy, flowing materials in the scorching desert, and decided to quickly incorporate this style into their uniform. It is hypothesized that this is one of the ways in which the harem pants were introduced in Europe.
Suffragettes were famous for opposing the corsets and skimpy skirts of the day, and were among the first Europeans to embrace this style of harem pants, which of course drew protest from their conservative opponents. In America, Amelia Bloomer wanted to convince women that harem pants were more comfortable than their skimpy dresses, and she made it a personal matter. Her legacy was to give the harem pants a new popular name, the baggy panties, "bloomer" (in English)!
In France, it was not until the 1920s that the great couturier Paul Poiret began to incorporate sarouel-inspired pants into his collections. These iconic pants then began to attract the attention of the general public. This mix of exotic pants, combined with headdresses and kaftans, went against the popular belief that women should stick to the skirt, and it was severely criticized for its "sexualized" and "inappropriate" forms. .
Harem pants enter the modern era
The hippy floaty styles of the 1960s and 1970s were unmistakably inspired by Poiret's iconic styles. Even so, it wasn't until the 1980s that harem pants really got the recognition they deserved. One of the most popular examples can be found in rapper MC Hammer, whose harem pants in red or shimmering gold, made history as one of the most famous outfits in the music scene.
Nowadays, the harem pants have become one of the darlings in fashion circles, worn by celebrities such as Rihanna, Heidi Klum, or Jennifer Lopez. Modern harem pants often have Asian or African inspired prints, paying homage to their origins. The asymmetrical designs are more inspired by the North African style, while the harem pants with the extra-low crotch are more inspired by the Hmong style. From now on, harem pants can be worn in any circumstance, from the festival, to the beach, through the evening with friends ... in fact, all occasions are good.
Come take a look at our selection of harem pants on Forgotten Tribes.