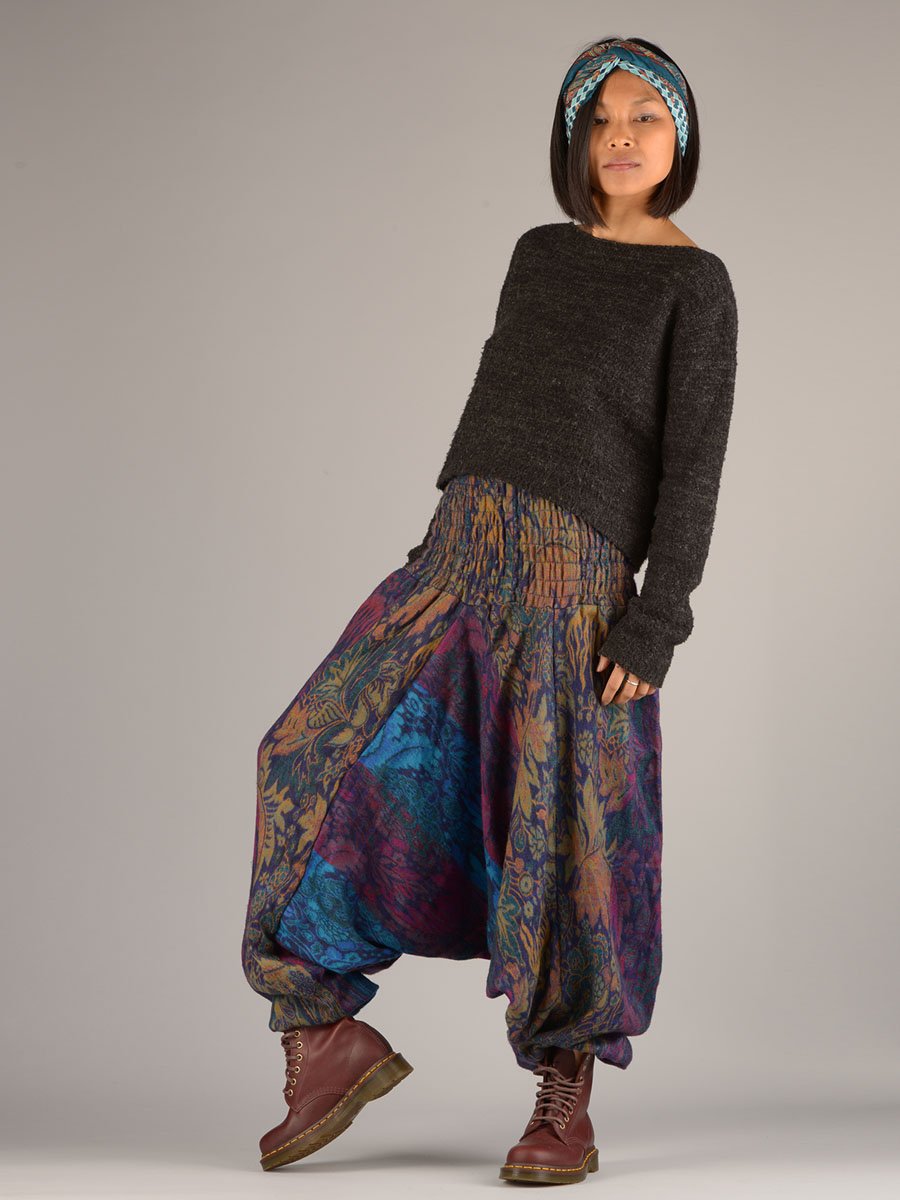 Beautify Your Wardrobe: Our Guide to the Best Ways to Wear Harem Pants
Few clothes are as comfortable as harem pants, making them the garment of choice for a yoga session or a relaxed night out at home. However, they are not just comfortable and practical, they can also be a fashion asset, if you manage to combine them with the rest of your wardrobe!
If you want your harem pants to become the star of your fall wardrobe, here are some tips from our stylist.
Tip N ° 1 - Small top, highlighted waist.
Worried about looking submerged in your harem pants? By revealing a hint of your size, you will immediately obtain a more refined silhouette. A rather cropped cropped top helps create a relaxed style, even more so if you go for something woolen or dark in color. But also, if you have a bit of guts, you can wear a cut top or a bra that lets your abs flaunt - it works super well with a vest, but also with a denim or leather jacket.
This wool top emphasizes the waist, without distracting too much from your beautiful harem pants.
Tip N ° 2 - Sober colors, simple patterns
Even if you love this colorful purple t-shirt, it might not be the best idea to pair them with your harem pants. If you choose a top with too distinctive a pattern, or too bright a color scheme, you risk making your style a little too visually confusing. A monochromatic top helps make your harem pants the centerpiece of your look, and a top that holds onto the body will help balance out the baggy side of the pants.
Tip N ° 3 - Bring an androgynous side with boots
The androgynous look is on every catwalk right now, and harem pants are perfect for achieving this style without too much effort. Dr. Martens type boots go superbly well with a little baggy sarouel, especially if they are in darker shades like black or brown. To add a small vibe masculine, you can also tuck the bottom of the sarouel into your shoes, and wear a black top.
If you prefer something more feminine, choose a pair of thinner heeled boots.
Tip # 4 - Wear it your way
The great thing about harem pants is that they easily match your personal style. Go for something colorful, or with patterns, for a bohemian 60's style, or try monochromatic harem pants for an urban edge. They can be mixed with a wide variety of accessories, from a scarf to a cardigan, or a sports top and a tracksuit. Harem pants are also perfect for parties, and can be enhanced with some ethnic jewelry.
In short, the harem pants are probably the most versatile item you can have in your wardrobe, and like the trusty "little black dress", they can be used in a variety of ways, depending on your mood. Have fun experimenting!
To take a look at our collection of harem pants, follow this link
You can follow us on @forgottentribes on Facebook and Instagram for more look ideas. Don't forget to share your look with us using #forgottentribes.